On Thursday 6th of April during National Youth Week, Midlas hosted a Youth with Disability Forum. The forum was held at the Midland Town Hall where youth aged 15-25 years old, parents/carers and providers came together to discuss key issues. Midlas were provided a National Youth Week grant by the Department of Local Government and Communities to host this event.
The event was initiated in response to the limited participation and voice of youth aged between 15 to 25 years, within our disability advocacy sector. The focus of the forum was to empower youth with disability to discuss ways in which their voice can be heard.
The event was ran in a world café style with five different tables with topics.
The topics were the following: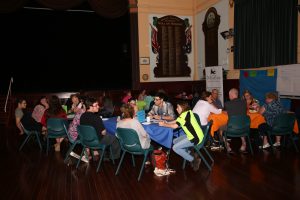 Relationships with Friends, Family and Others;
Prompting Independence;
Life after School, University or Tafe;
What Cheeses Me Off?; and
Parents/Providers Table.
The event was co-facilitated by Christina Kadmos (Calico Consulting) and Rebecca Dewar (Disability Advocate and Committee Member of Valued Lives).
Picture of Forum attendees-P King Photos 
At the commencement of the night an inspiring young lady Grace Mills from Youth Disability Advocacy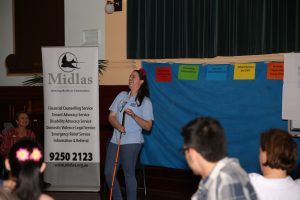 Network (YDAN) discussed with the group her story of self-advocacy.  Grace gave an empowering speech and most definitely provided inspiration for many youth at the forum. For more information on YDAN please visit: https://www.facebook.com/youthdisabilityadvocacy
Participants were encouraged to visit each of the tables and give their feedback and key ideas/themes. These key ideas and themes were fed back to the co-facilitators and the group and placed them on the sticky wall. The information that was gathered on the night will be written into a formal report which will be provided to attendees, stakeholders and local government. If you would like a copy of the report please email Megan on megan.butt@midlas.org.au
This event wouldn't have ran so successfully without all the help from so many people. Firstly, we are extremely thankful for all the hard work from our co-facilitators Christina Kadmos and Rebecca Dewar.
As well as, the assistance of Grace Mills, Karl Schunker, Paige King and Ellie Yang volunteering their time on the night of the event.
We would also like to thank City of Swan for donating funding for the catering and support from the City of Swan's Brad Lukosius who donated his time to transport attendees and Rebecca Pudney. Additionally, Midlas thanks City of Swan for the Community grant to produce and publish the Forum report.
Thank you to all the organisations that assisted to promote this event.
Lastly, we would also like to thank all the attendees who so actively participated in the event.