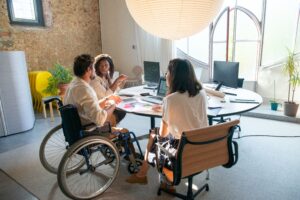 Midlas' Disability Advocates can provide support by:
listening to you and get an understanding of your issue
giving you information about services, supports and resources
talking to you about your options and choices
referring you to other organisations in the community
encouraging and supporting you to speak up for your rights and make your own decisions
NDIS Appeals – AAT and Independent Expert Review Panel
If you have gone through an Internal Review with NDIA and still believe the decision was not fair, you can appeal that decision. Matters can be heard in the Administrative Appeals Tribunal and through the Independent Expert Review Panel.
Advocates can support with:
Providing information and advice
Attending AAT conferences and hearings with you
Supporting you through the Independent Expert Review process
Referring to legal services where needed for complex legal issues
Providing other local supports, information and resources available to you
Individual Advocacy
Disability advocates provide individual advocacy, guidance and support to people with a disability, their carers and families.
Advocates can provide advocacy, support and case management in relation to:
Abuse, neglect and/or violence
Accessing non-NDIS services, including education, health, mental health, housing and homelessness support
Child protection advocacy
Corrective services and justice advocacy
Promoting social inclusion
Supporting people who are vulnerable and isolated
Concerned about discrimination and human rights in relation to their disability
Experiencing financial stress
What to bring to your appointment
Your NDIS Plan and any correspondence relating to NDIS (if applicable)
Any correspondence from Centrelink (if applicable)
Guardianship/administration orders
Any other information or documentation related to your issue
Case Studies
Midlas Publications
Youth With Disability Forum Report 2017
Useful Forms
Disability Support Pension Claim
Useful Links
National Disability Insurance Scheme (NDIS)
Disability Services Commission

Health and Disability Service Complaints Office

National Disability Advocacy Program (NDAP)

AskIzzy Disability Advocacy Finder
Appeals through Administrative Appeals Tribunal
Complaints Resolution and Referral Service
For users of Australian Government Disability Employment Services; Australian Disability Enterprises; and/or Disability Advocacy Services
The National Disability Abuse and Neglect Hotline
No Silly Questions Booklet
A practical guide for families living with a child with chronic illness, disability, mental illness or a life threatening condition