Midlas recently tested the new Penda app – a streamlined connection point for women created by Women's Legal Service QLD with funding from Financial Literacy Australia. It seeks to quick, easy and safe access to information on:
Safety
Money
Domestic and Family Violence
Visa & Immigration
Children
Legal Matters
Housing
Wellness
Pros: The app is well-designed, provides national and state-based referrals and best of all offers a 'safety mode' in which it will switch to a simple game at the tap of an icon or shake of the phone. It will also load as the game whenever the phone is unlocked and offers a PIN password option so the game, once activated, cannot be closed – even with a forced reset.
Cons: The name of the app is apparent on both its icon and the game screen and is a simple google search away from being identifiable as the safety resource it is.
If you or anyone wanting to use it are in a dangerous or controlling situation, Midlas recommends you consider the safety of downloading and using this app.
Penda recommends that if it is not safe for you to have this app, you ask a trusted friend or family member to have it installed on their phone instead.
Midlas offers a free, confidential legal service for victims of domestic violence in the north east metro and hills region of Perth. If you would like to book an appointment, please call 9250 2123 after 10 am or come into our office at 23 Old Great Northern Highway, Midland.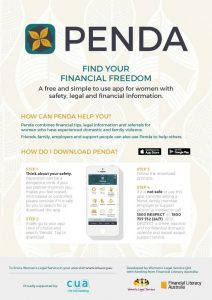 Midlas Mission: We partner with individuals and organisations to promote independence, strength and wellbeing in our community through support, advocacy and education.