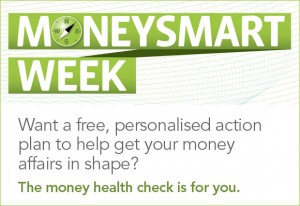 MIDLAS will be at the Midland Centrepoint Shopping Centre on
Thursday 4th September from 9am – 12pm
MoneySmart Week September 1 – 7 2014
MoneySmart Week will be running from Sunday 1st September to Saturday 7th September. The purpose of MoneySmart Week is to draw attention to financial literacy among all Australians and its importance in improving quality of life, planning for the future, improving financial security and general financial knowledge to make sound decisions. The Midland Information, Debt and Legal Advocacy Service Inc (MIDLAS) promotes this initiative, and believes that all Australians can "take simple steps to make a big difference to their finances."  MoneySmart Week is a chance for you to conduct a "financial health check," sort out any unexpected bills, and even take a look at those financial matters you had put into the 'too hard basket.'
MIDLAS will be hosting an official MoneySmart event on Thursday the 4th September at the Centrepoint Shopping Centre in Midland from 9:00 AM – 12:00 PM.  This shopping centre is located at 307 Great Eastern Hwy, Midland.  MIDLAS Financial Counsellors will be available at this event to assist you to complete a "money health check" and provide you with fact sheets and tips on how to improve your financial health. All results of the money health check are instant and private and confidential. The results can also be emailed to you if you prefer. MIDLAS Financial Counsellors will also be able to assists with other general financial queries.
The money health check will ask you simple questions in relation to your own situation across eight different money topics.  At the completion of your money health check, you will also receive an action plan with simple steps and tips on how to improve your finances.  A MIDLAS Financial Counsellor will email you a copy of your action plan.  You can also conduct a money health check online, please click here to view or download the money health check app here.
BE IN THE DRAW TO WIN $100 FOOD VOUCHER!
Simply just complete a financial health check with MIDLAS at the event and you could be in the draw to win $100 Food Voucher.
MoneySmart events are taking place all across Australia.  For more information on other events that may be occurring in your area, please click here to view other registered events. For more information generally, about MoneySmart Week please visit www.moneysmartweek.org.au
 Midland Information Debt and Legal Advocacy Service (Inc) (MIDLAS) empowers disadvantaged and vulnerable people within our community who are experiencing distress by providing them with free services and confidential: information, advocacy, options, referral and support so they can achieve a better way of life. To make an appointment or to find out more information visit www.midlas.org.au or give us a call on 9250 2123.