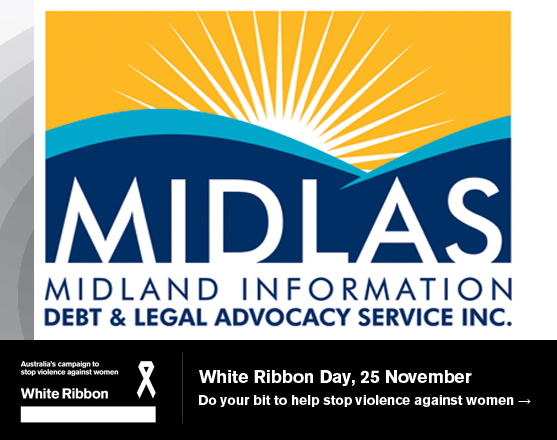 November 25th is White Ribbon Day, a day for all Australian men to join together and campaign to stop violence against women.  The Midland Information, Debt & Legal Advocacy Service Inc (MIDLAS) promotes this campaign and encourages all men to take a stand and declare that violence, in any form is unacceptable.
First established in 1991, a handful of Canadian men initiated a campaign to urge men to speak out about domestic violence in light of the anniversary of a massacre of 14 women by a lone gunman in Montreal Canada (bit.ly/TwhA7J).  The symbol of the white ribbon (which can be purchased on White ribbon Day) represents a pledge to never commit, excuse or remain silent about violence against women.
In 1999 The United Nations declared November 25th as International Day for the Elimination of Violence against Women.  Kofi Annan the 7th Secretary-General of the United Nations stated;
'Violence against women is perhaps the most shameful human rights violations.  And, it is perhaps the most pervasive.  It knows no boundaries of geography, culture, or wealth.  As long as it continues, we cannot claim to be making real progress towards equality, development and peace.'
MIDLAS has once again joined this campaign by creating and launching a series of short videos portraying men of all ages, political persuasions, and professions swearing the oath to end domestic violence.   The following videos can be viewed by clicking on the images below or clicking on the weblink below the videos.  We encourage you to LIKE, share and comment on these videos.
The General Assembly of the United Nations defines domestic violence as;
'any act of gender-based violence that results in, or is likely to result in, physical, sexual or psychological harm or suffering to women including threats of such acts, coercion or arbitrary deprivations of liberty, whether occurring in public or private life.'
MIDLAS would include the term 'family violence' to this definition, as domestic violence is not only gender-based violence but also includes those suffering from physical, sexual or psychological harm or suffering to men or women.
Helen Lawrence, Solicitor for MIDLAS acknowledges the White ribbon Campaign can be influential in reducing domestic violence throughout Australia, "by  raising  awareness of domestic violence amongst men and providing  an avenue for men to use their influence to effect change in their communities and promote positive attitudes and behaviours towards women."
So what can you do? You can visit the White Ribbon Day website to find out more information or to sign the petition to end domestic violence: www.whiteribbon.org.au or simply visit www.myoath.com.au and swear!!!
On and around November 25th Australians of all ages will come together to participate in events and rallies around Australia to increase awareness about the impact of domestic violence and to urge all men to swear to end this horrible crime.
MIDLAS offers a free legal service focused on assisting victims of family and domestic violence. This includes initial assistance and advice in family law (excluding property) and criminal injuries compensation. For any legal matters that exceed the scope of the MIDLAS Domestic Violence Legal Service, the solicitor will facilitate a referral and transfer to a suitable, alternate legal practitioner.
If you are experiencing any form of Domestic Violence, MIDLAS provides a safe, private and confidential environment for victims to seek professional legal assistance in navigating this often daunting and highly emotional aspect of the law.
If you or someone you know is or has experienced any form of domestic violence you can find out information about safety planning on the MIDLAS website http://www.midlas.org.au/services/legal-service/ or by contacting the MIDLAs office to make an appointment with our legal team (08)9250 2123.