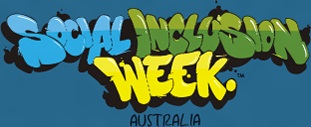 The week of November 24th through to the 2nd of December marks Social Inclusion Week (SIW12).  SIW is all about encouraging communities to reconnect and be inclusive of all cultures, age groups, nationalities and the disadvantaged.  Social Inclusion Week aims to assist Australians feel valued and to provide opportunities for full participation within society.
Some of the most disadvantaged members of our communities are those who have a disability.   The Australian Institute for Health and Welfare released a study in 2009 finding strong links between disability and socioeconomic disadvantage amongst Australian communities (http://bit.ly/UyYPSe).  The study found; 'Socioeconomic disadvantage can contribute to disability and vice versa. People with disability often have lower average incomes than people without disability, and their disability can impose extra costs on individuals and their families.'
The Midland Information, Debt & Legal Advocacy Service Inc (MIDLAS) provides individual advocacy for persons with a disability. MIDLAS disability advocates provide information, advocacy, options and support to disadvantaged and vulnerable people, having regard to their rights, including access to services, discrimination, alleged abuse and neglect.
Minister for Mental Health and Ageing, Social Inclusion and Assisting the Prime Minister on Mental Health Reform Mark Butler acknowledges that; 'together we can break down the barriers to full inclusion of all people in our community whether they have a mental illness, suffer discrimination because of a disability or simply because they are getting older (http://bit.ly/StGEAT).'
MIDLAS is wanting to engage with people who have a disability within our community to participate in  SIW12 by becoming actively involved in a MIDLAS video project  on social inclusion.  We want to know your experience of living with a disability and how you access services within the NE of Perth.  MIDLAS is also calling on past or current clients of MIDLAS to become involved with this project.
If you would like to be or know of someone who would be involved in the MIDLAS SIW12 project, please contact our office on 9250 2123 or visit out website and leave a message http://www.midlas.org.au
MIDLAS empowers disadvantaged and vulnerable people within our community who are experiencing distress by providing them with free services of confidential: information, advocacy, options, referral and support so they can achieve a better way of life.  If you are a person living with a disability and would like to make an appointment with a MIDLAS Disability advocate, please leave a message on our website: http://www.midlas.org.au/contacts/ or simply call out office on (08)9250 2123.